SMOK SPECIES 230W & TFV8 BABY V2 STARTER KIT
SMOK Species 230W with TFV8 Baby V2 Starter Kit
The 2nd generation of the mysterious creature from the outer space--the Species dominates the whole universe again, who perfectly combines the vaping and high-tech to bring you wonderful vaping experiences. Species has an angular mod with hard lines, which reflects its sublime heroism. The front brand new 1.45'' high-definition touch screen with upgraded user interface offers you more comprehensive and clearer vaping data, while the back classic cobra pattern reveals its domineering potential. Moreover, the screen locking button ensures a safe operation. And its 1W-230W output can meet your various demands. Species uses the newly developed TFV8 Baby V2 tank and adopts two powerful coils--- Baby V2 A1 Coil with super large heating area and Baby V2 A2 Coil with dual heating cores, fully satisfying the vaping fans' pursuit of dense flavor and massive cloud. 
SMOK Species 230W TC Touch Screen Box Mod Features:
Dimensions - 82.1mm by 49mm by 30.6mm
Dual High-Amp 18650 Battery - Not Included
Wattage Output Range: 1-230W
Voltage Output Range: 0.5-8.2V
Min Atomizer Resistance: 0.06ohm
Temperature Range: 200-600F
Supports Ni200 Nickel, Titanium, and Stainless Steel Heating Elements
Preheat Functionality - Soft, Normal, Hard, Max
Temperature Coefficient of Resistance (TCR) Adjustments
Superior Zinc Alloy Construction
Full-Color 1.45" OLED Touch Screen - New Interface
Universally Unique Identifier
Screen-Lock Button - Simplify Operation
User-Friendly Interface
Stealth Firing Bar Mechanism
Bottom-Loaded Hinged Battery Door
Intelligent Atomizer Recognition
Puff Monitoring System
10 Seconds Cut-Off
Short Circuit Protection
Over Heating Protection
Over Discharge Protection
MicroUSB Port - 1.8A Charging Current
510 Connection
Available in Black, Red, Gold, Blue, Silver, White, Green, Rainbow
SMOK TFV8 Baby V2 Sub-Ohm Tank Features:
25.4mm Base Diameter
30mm At Widest Point
5mL Maximum Juice Capacity - Convex Glass Extension
Superior Stainless Steel Construction
High-Grade Glass Reinforcement
High-Temperature Resistant - Explosion Proof
Convenient Top-Fill Rotary Design - Lock Button Mechanism
Massive Triple Adjustable Airflow Control at Base
810 Cobra Resin Ultra-Wide Drip Tip
Performance-Grade Baby V2 Coil System
0.17ohm Baby V2 A1 Single Coil - rated for 90-140W
0.2ohm Baby V2 A2 Dual Coil - rated for 50-80W
Antibacterial Medical Cotton
16mm Wide Delrin Widebore Drip Tip - Exclusive Fitment
Gold-Plated 510 Connection
Package Includes:
1 Species 230W Box Mod
1 TFV8 Baby V2 Tank
1 0.17ohm Baby V2 A1 Single Coil
1 0.2ohm Baby V2 A2 Dual Coil
1 MicroUSB Cable
1 Instructional Manual
WARNING: Please have a great understanding and technical knowledge on how to use this product in order to properly use it. There is always an inherent risk when using any rechargeable batteries at anytime and under any circumstances. Ecigarettes-wholesale.com and any of Ecigarettes-wholesale.com's parent and subsidiary companies are not held responsible for any damage for any modification of the batteries, chargers, devices and other products that we carry in any form or shape, this is including pack making.

Ecigarettes-wholesale.com and any or all of Ecigarettes-wholesale.com's parent and subsidiary companies will not be held responsible or liable for any injury, damage, or defect, permanent or temporary that may be caused by the improper use of a Li-ion (Lithium-ion), LiPo (Lithium-ion Polymer) and any rechargeable battery and/or batteries as well as chargers. Please have a greater understanding of the batteries and/or chargers you are using and how to care for them properly.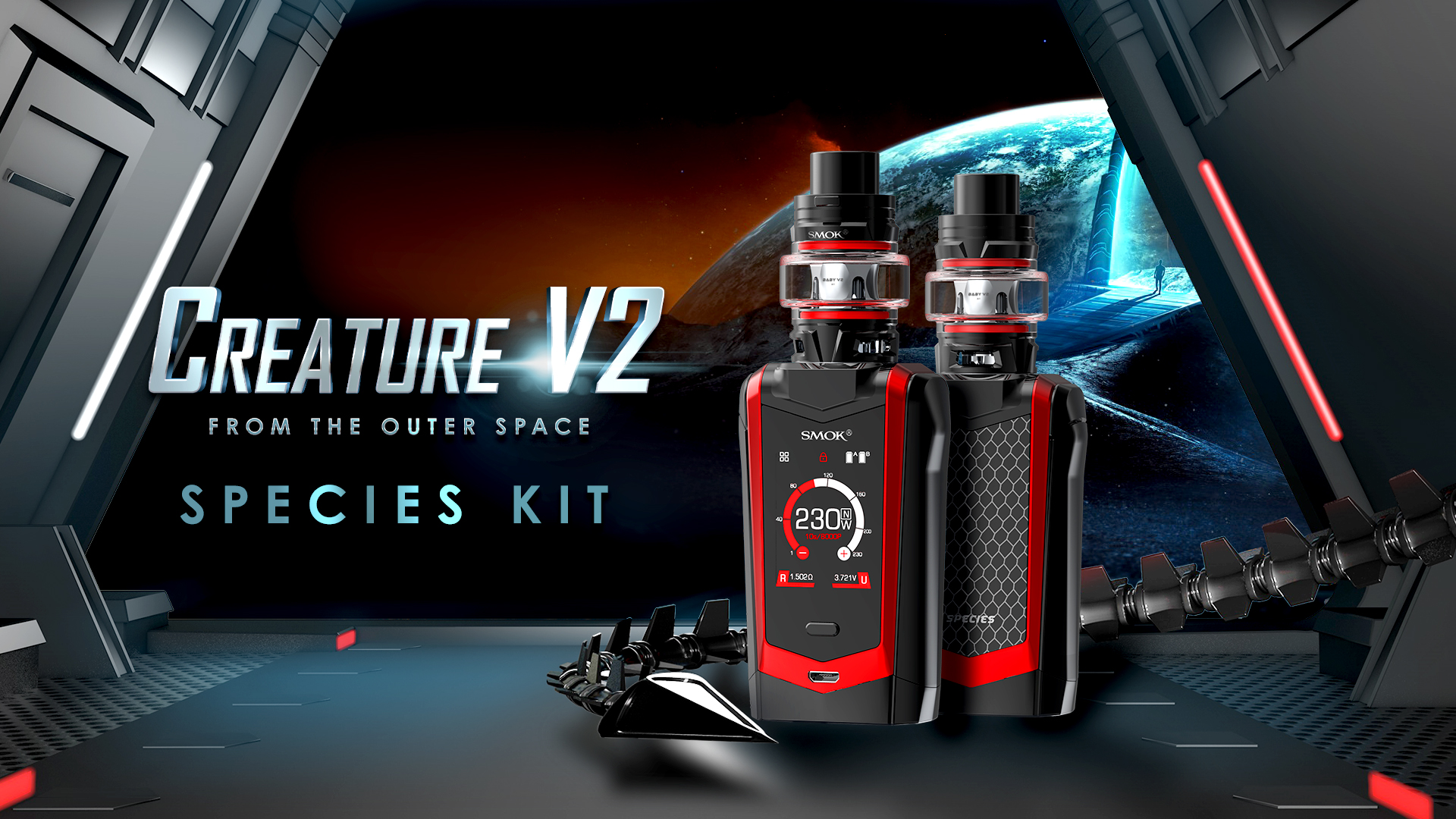 THE KIT INCLUDES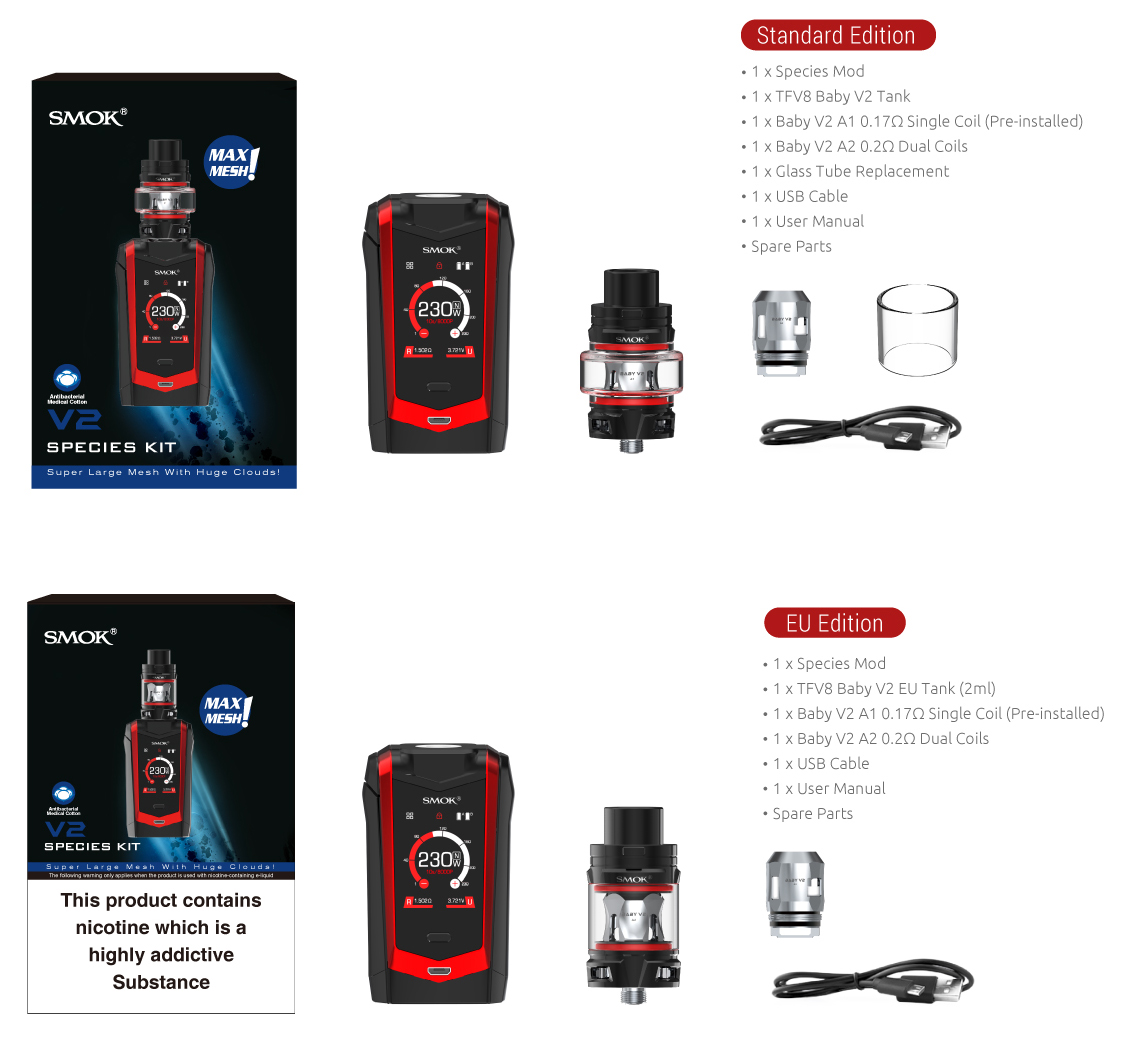 SPECIFICATIONS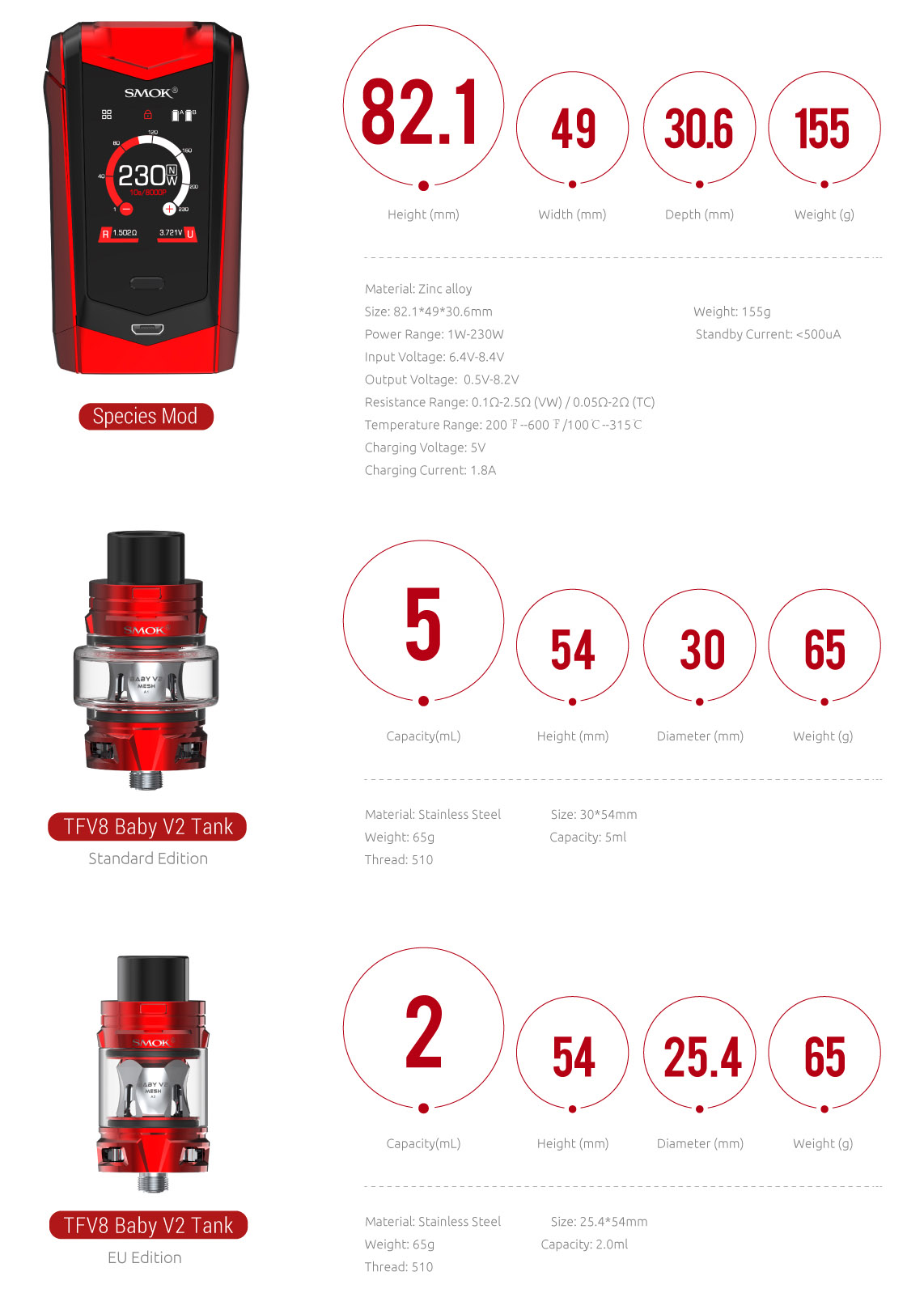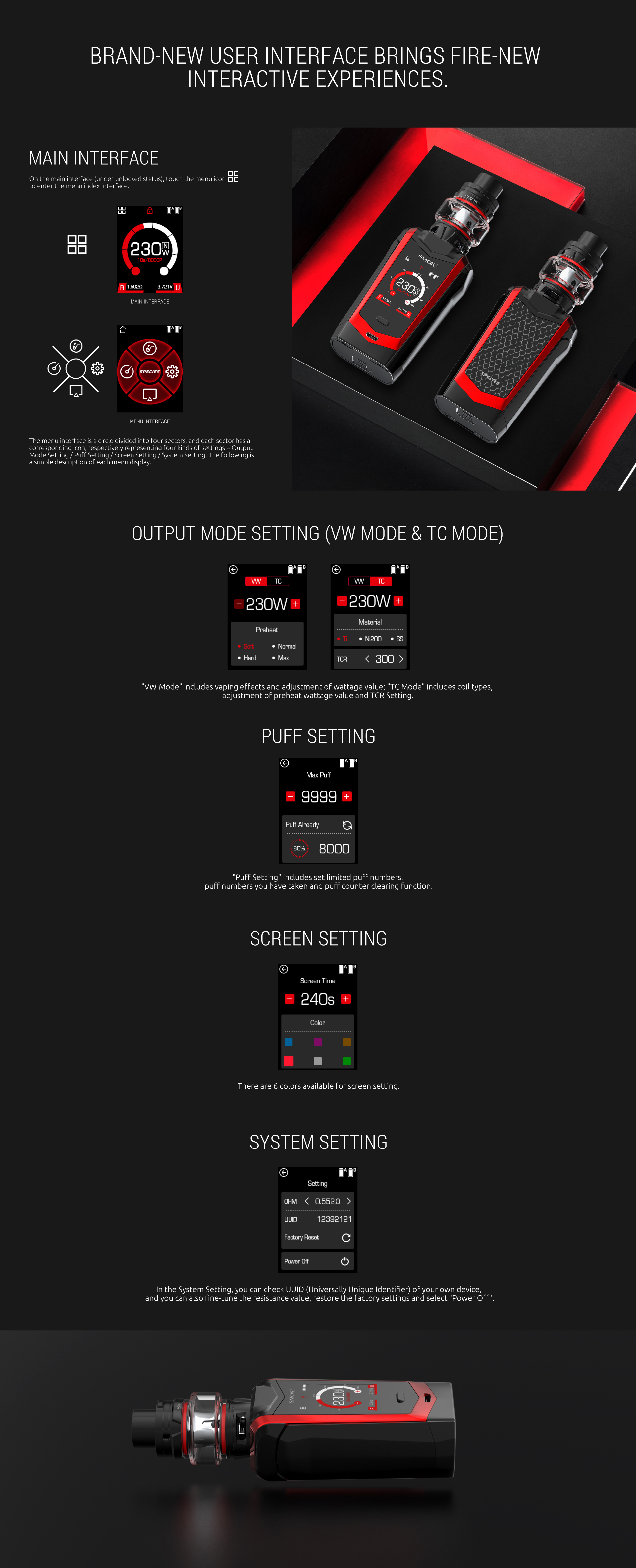 230W OUTPUT POWERED BY 2x18650 BATTERY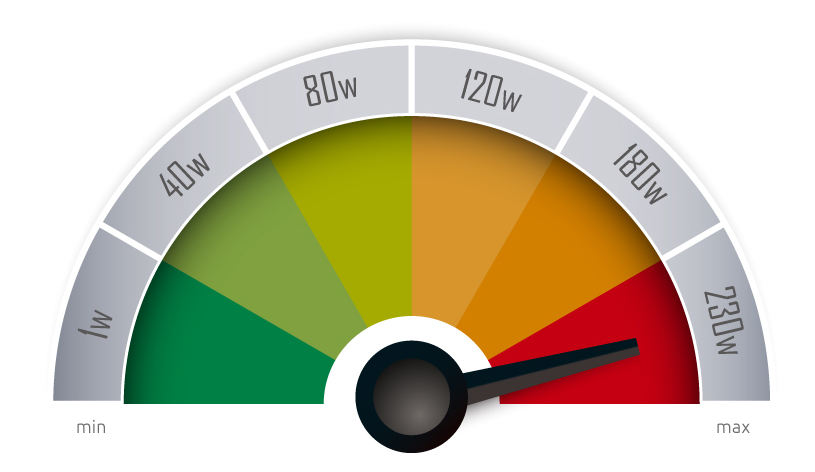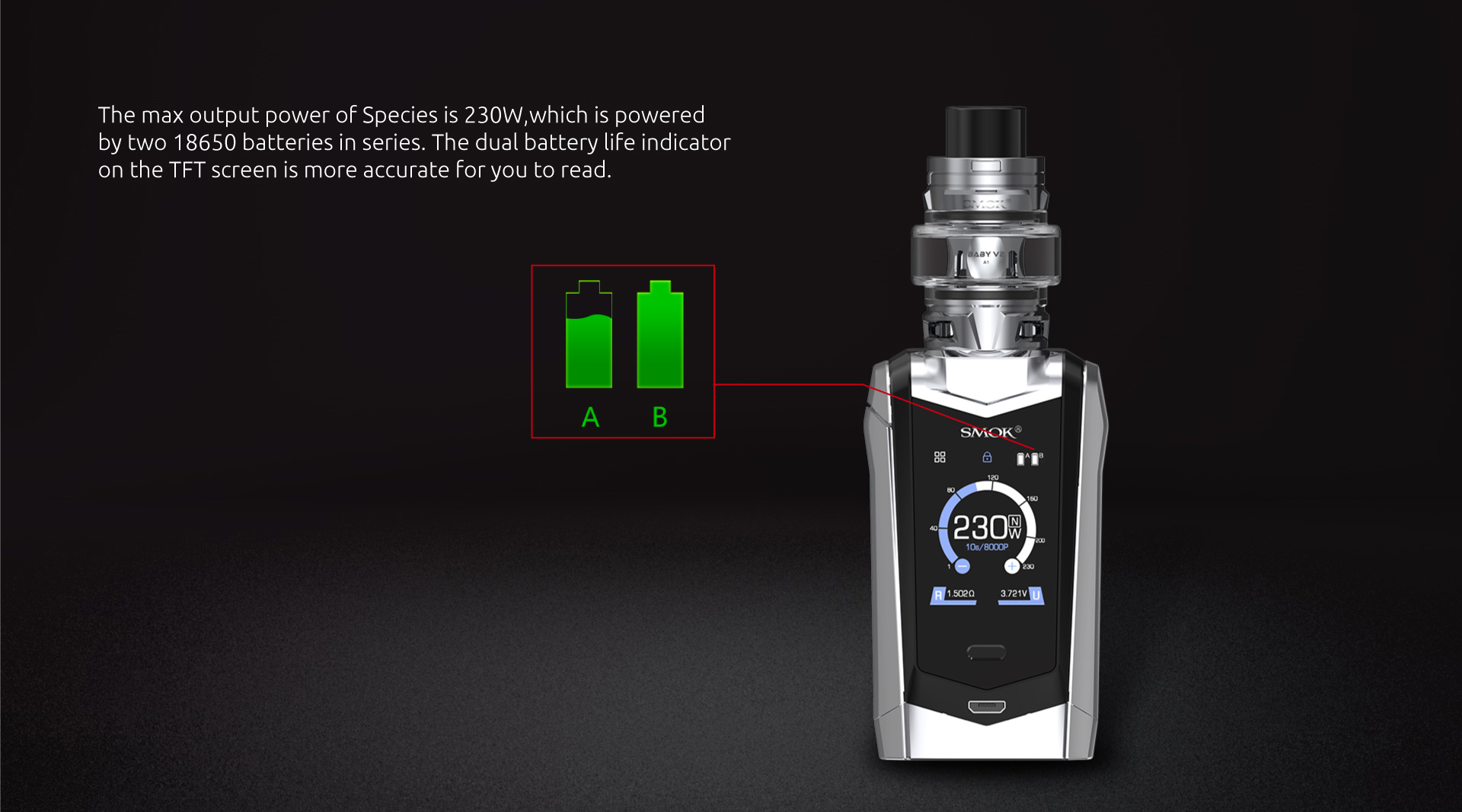 BATTERY INSTALLATION
1) Slide and open the battery cover as the picture shows;
                   2) Place the batteries into device according to the correct directions;
3) Close the battery cover.

MULTIPLE PROTECTIONS
Species provides multiple types of protections to avoid potential risks.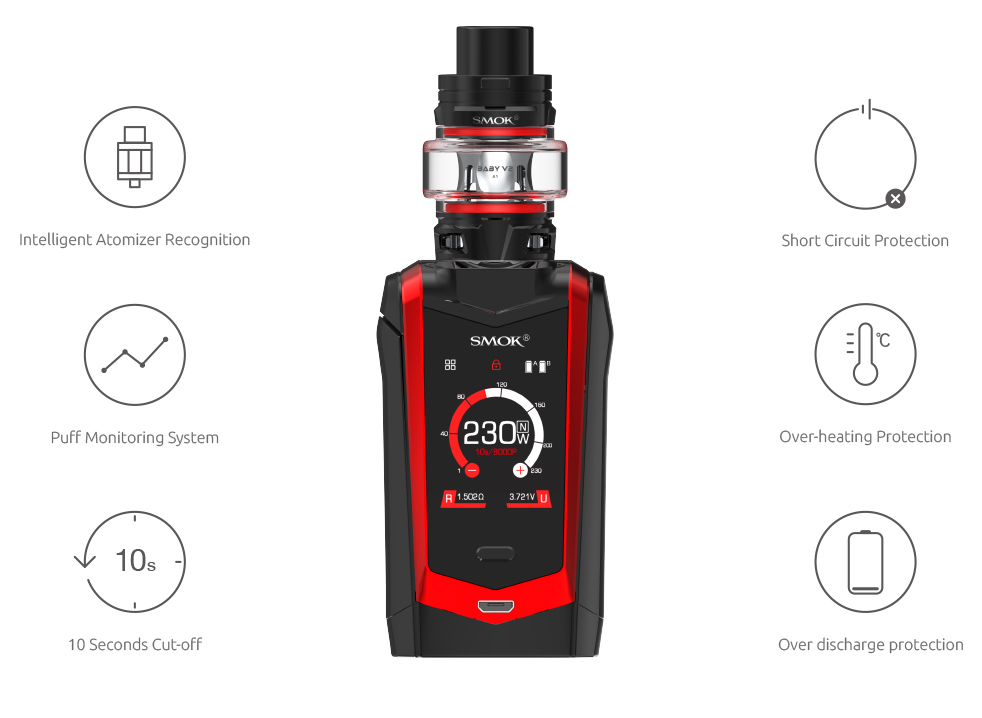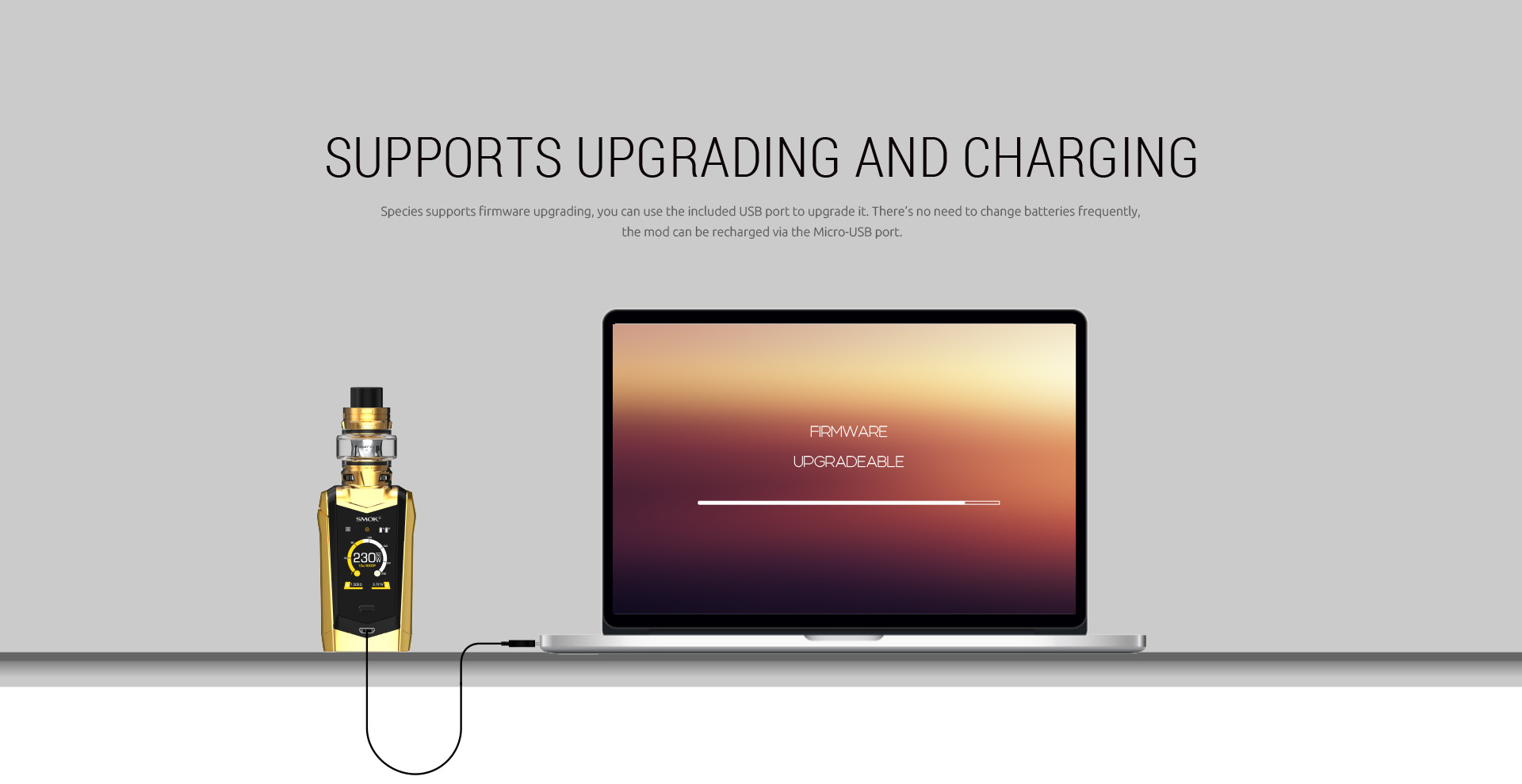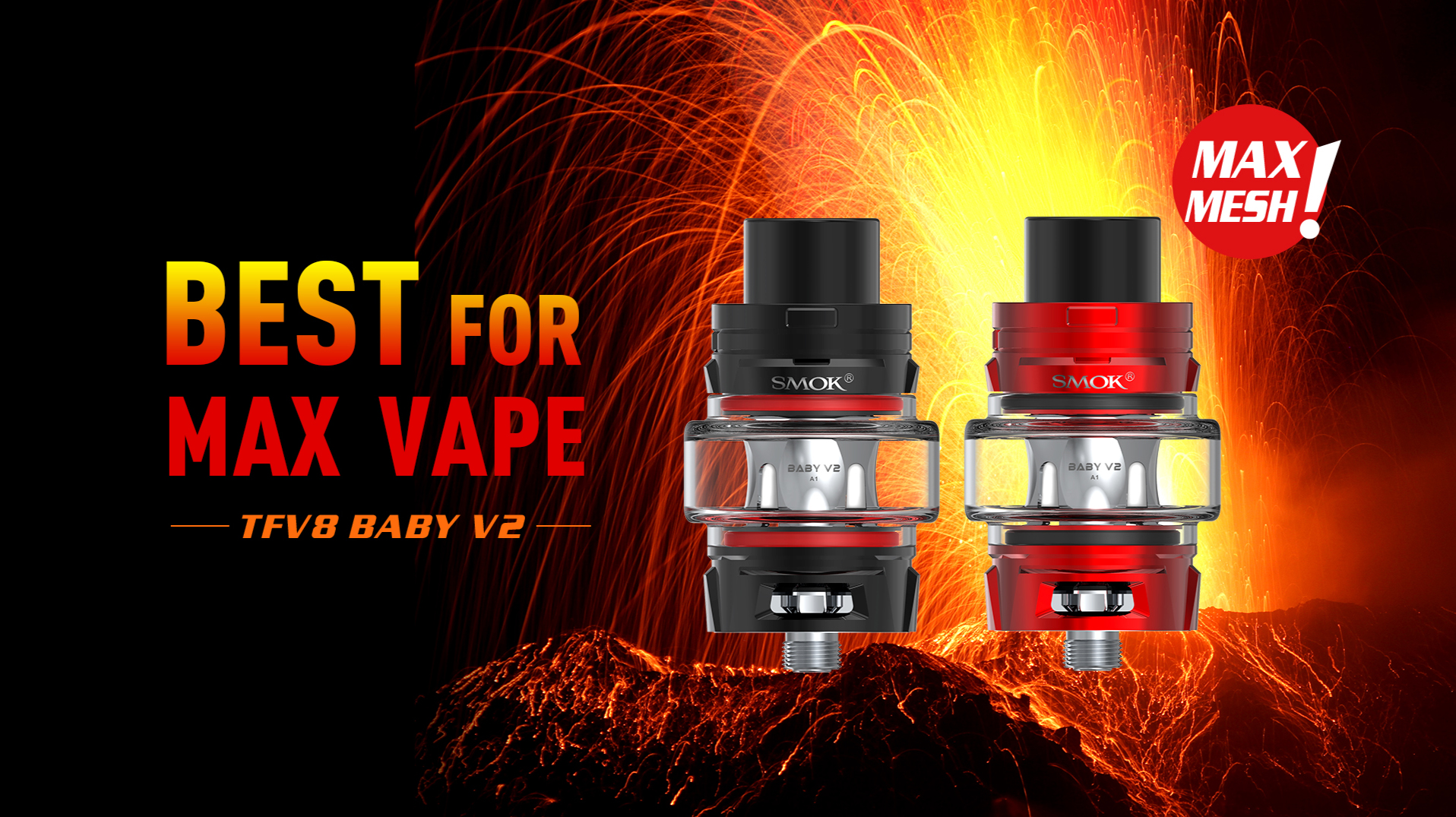 BABY V2 COIL FAMILY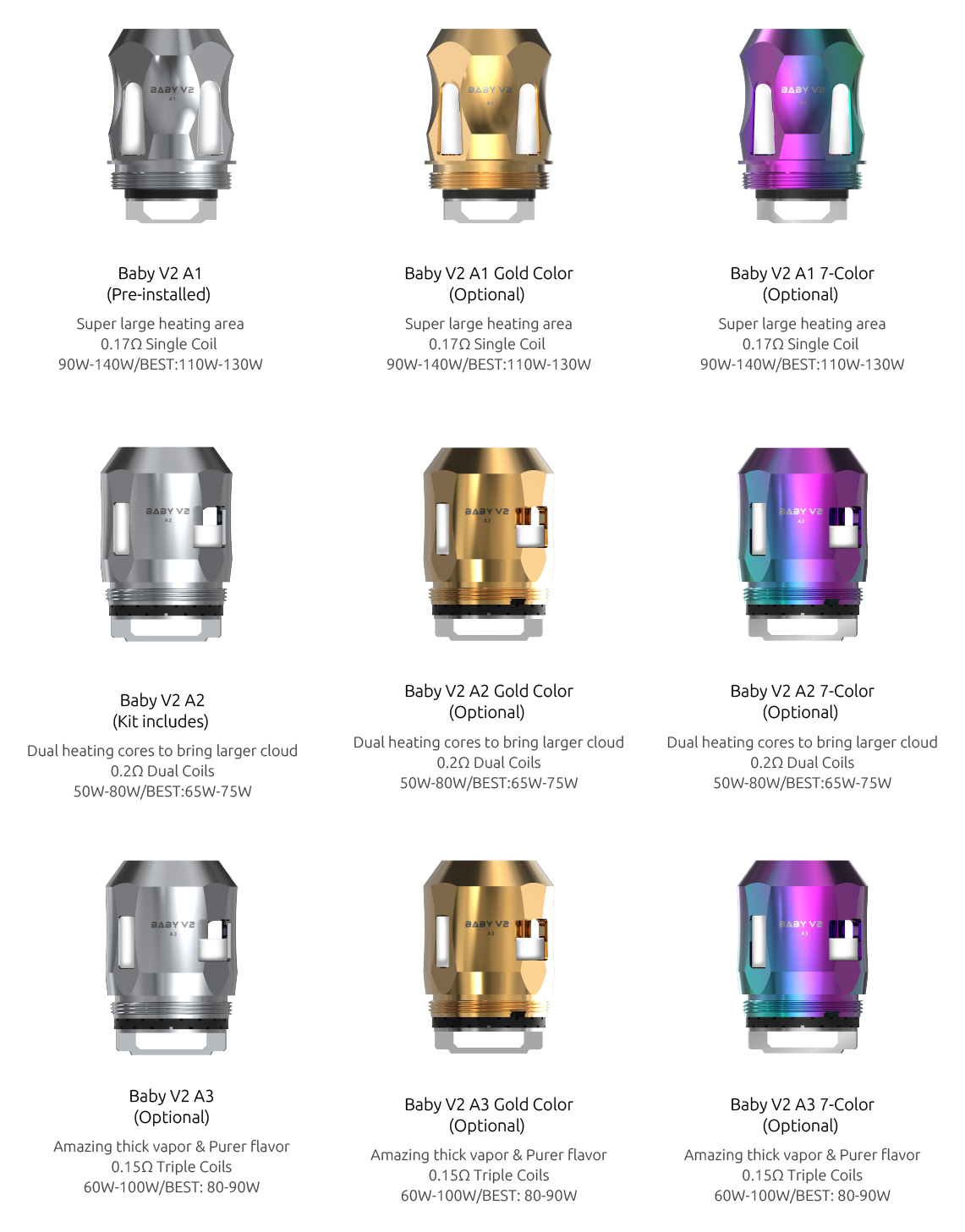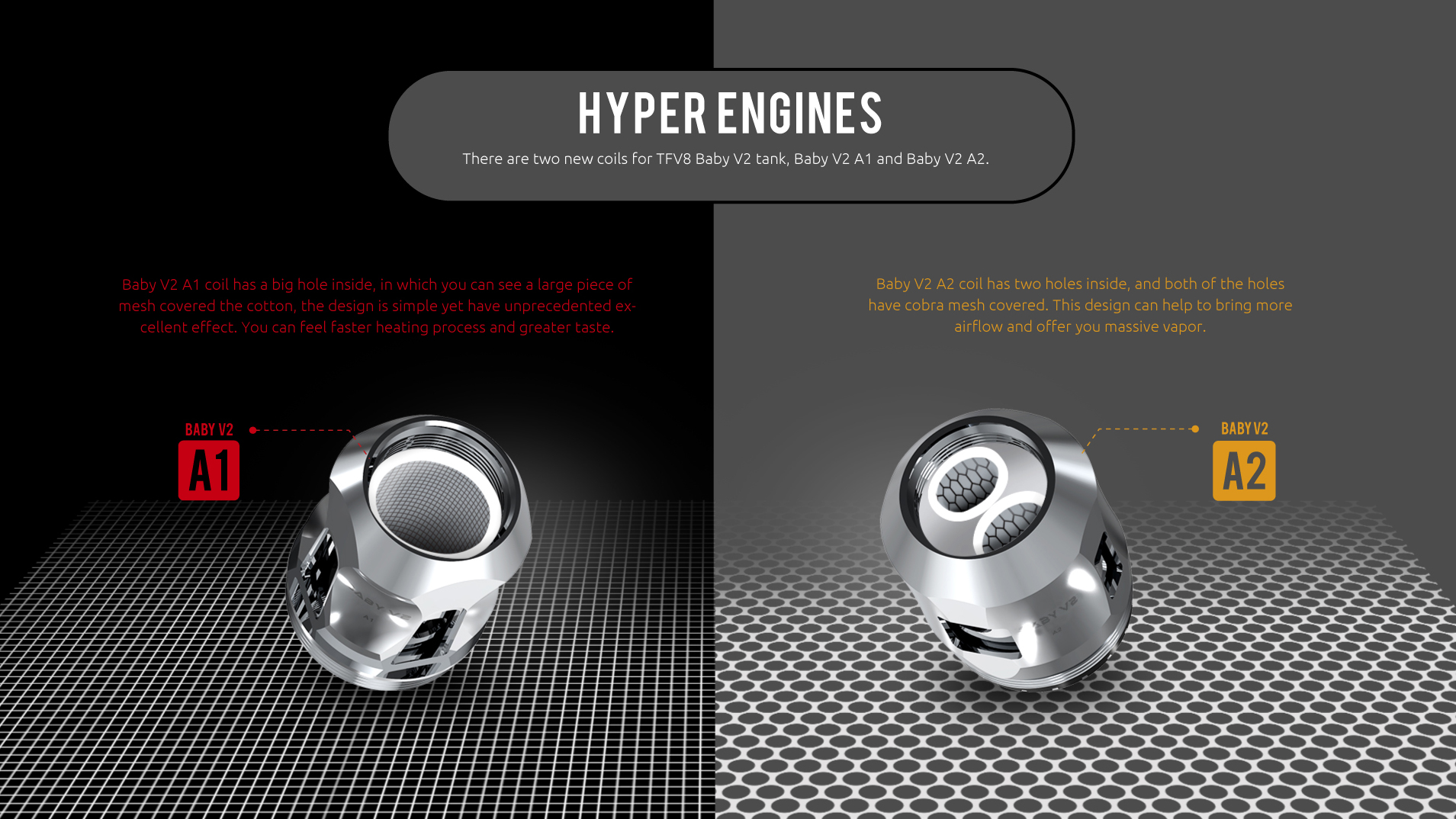 BABY V2 A3 
A3 has three separate heating coils inside, combining with 3 larger airflow slots at the bottom of the tank, more air can be straightly brought in,
and when you fire to vape, three coils will heat simultaneously, which can bring you unprecedented huge & thick vapor!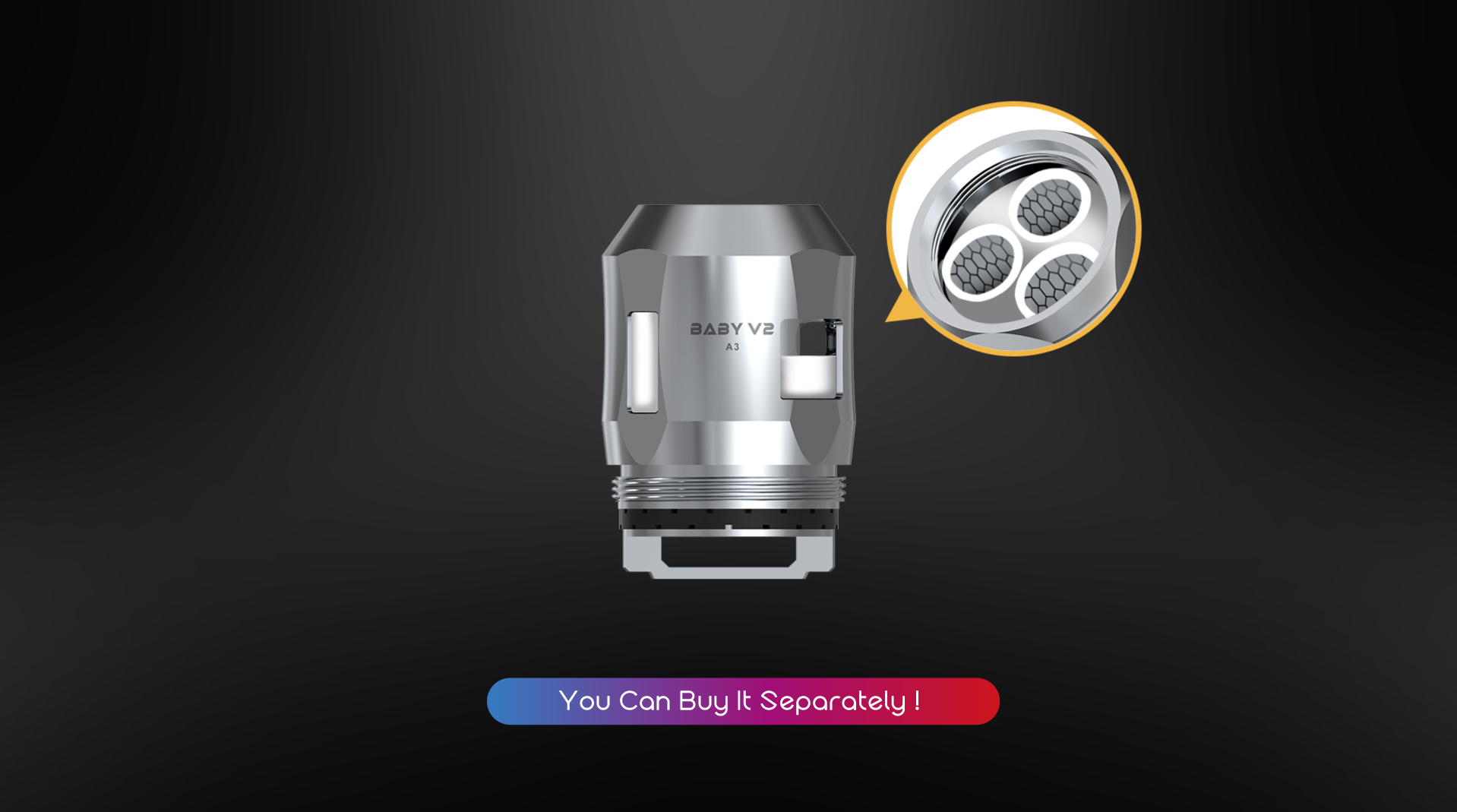 ANTIBACTERIAL MEDICAL COTTON
The new tank also uses antibacterial medical cotton, the best replacement of former organic one.
This kind of medical cotton is better and can reduce the amount of bacterial.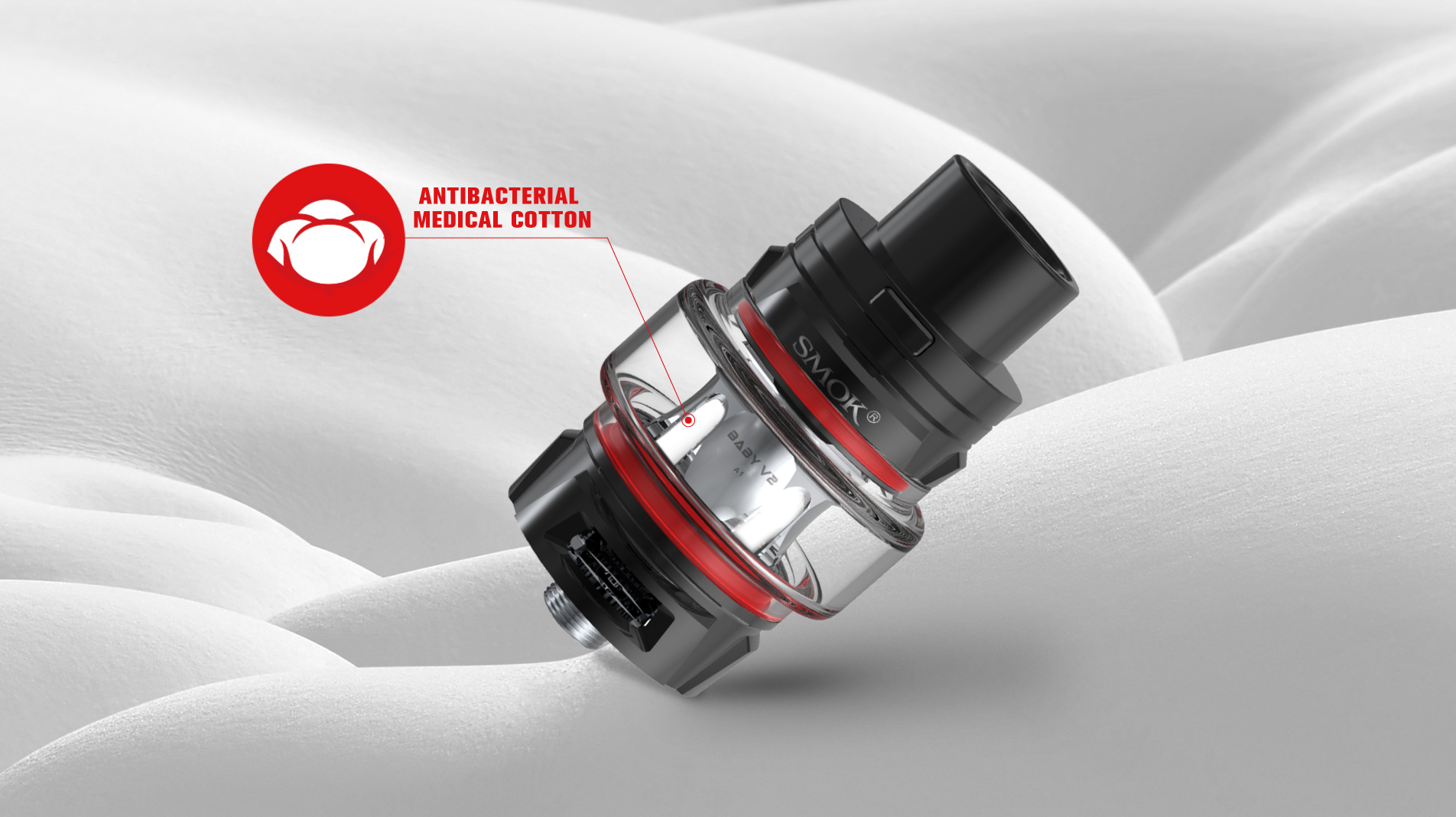 16MM V2 BABY EXCLUSIVE DELRIN DRIP TIP
The specially made drip tip has perfect diameter to fit your mouth, and it doesn't need to screw, only with simply press you can finish the install work. Without doubt, it will bring increased airflow and provide more powerful draw effects.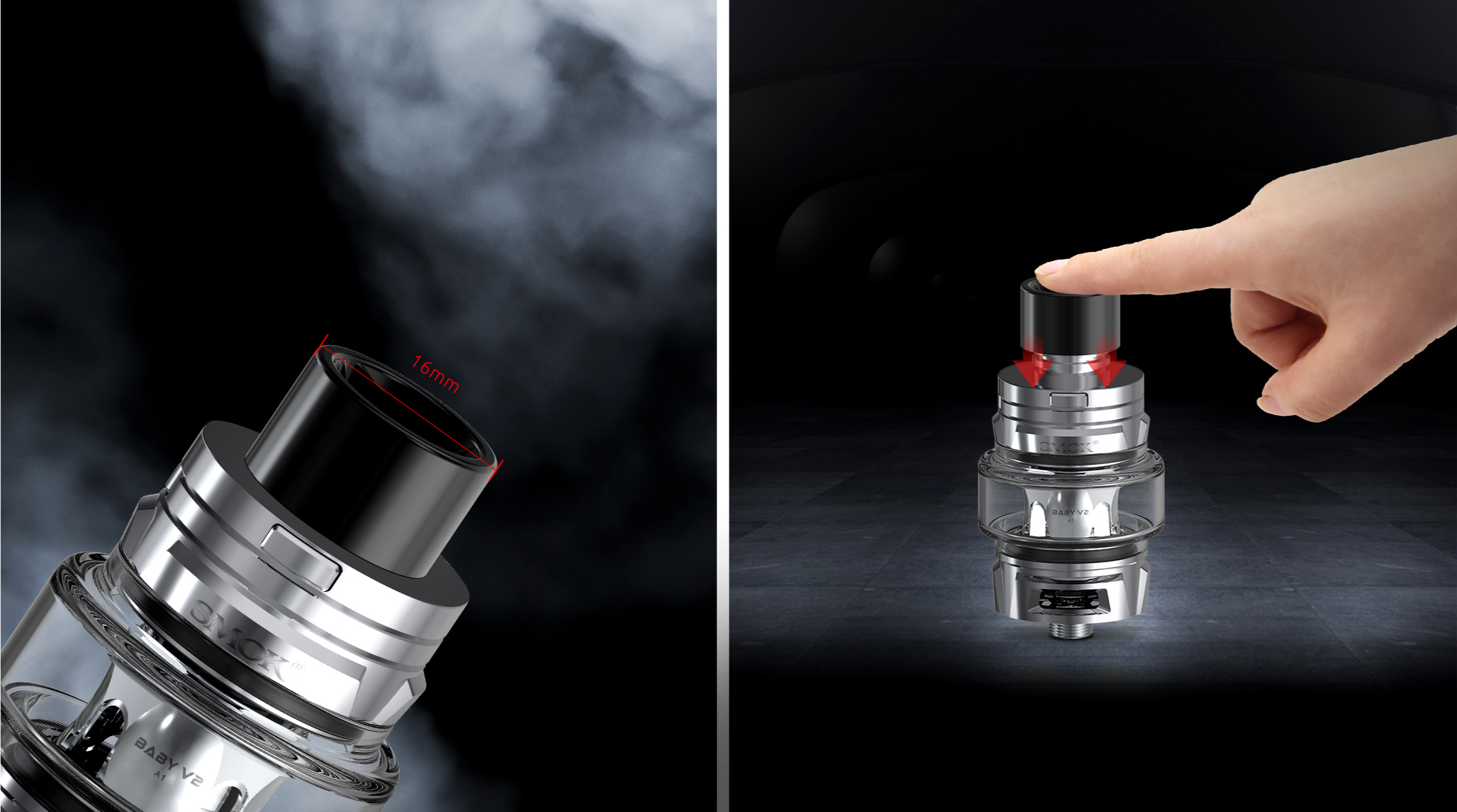 BABY V2 COBRA RESIN DRIP TIP
For the 16mm V2 Baby Exclusive Delrin Drip tip, you also have cobra edition to choose from, with wild appearance and excellent tactility,
it will bring you increased airflow and powerful draw effect.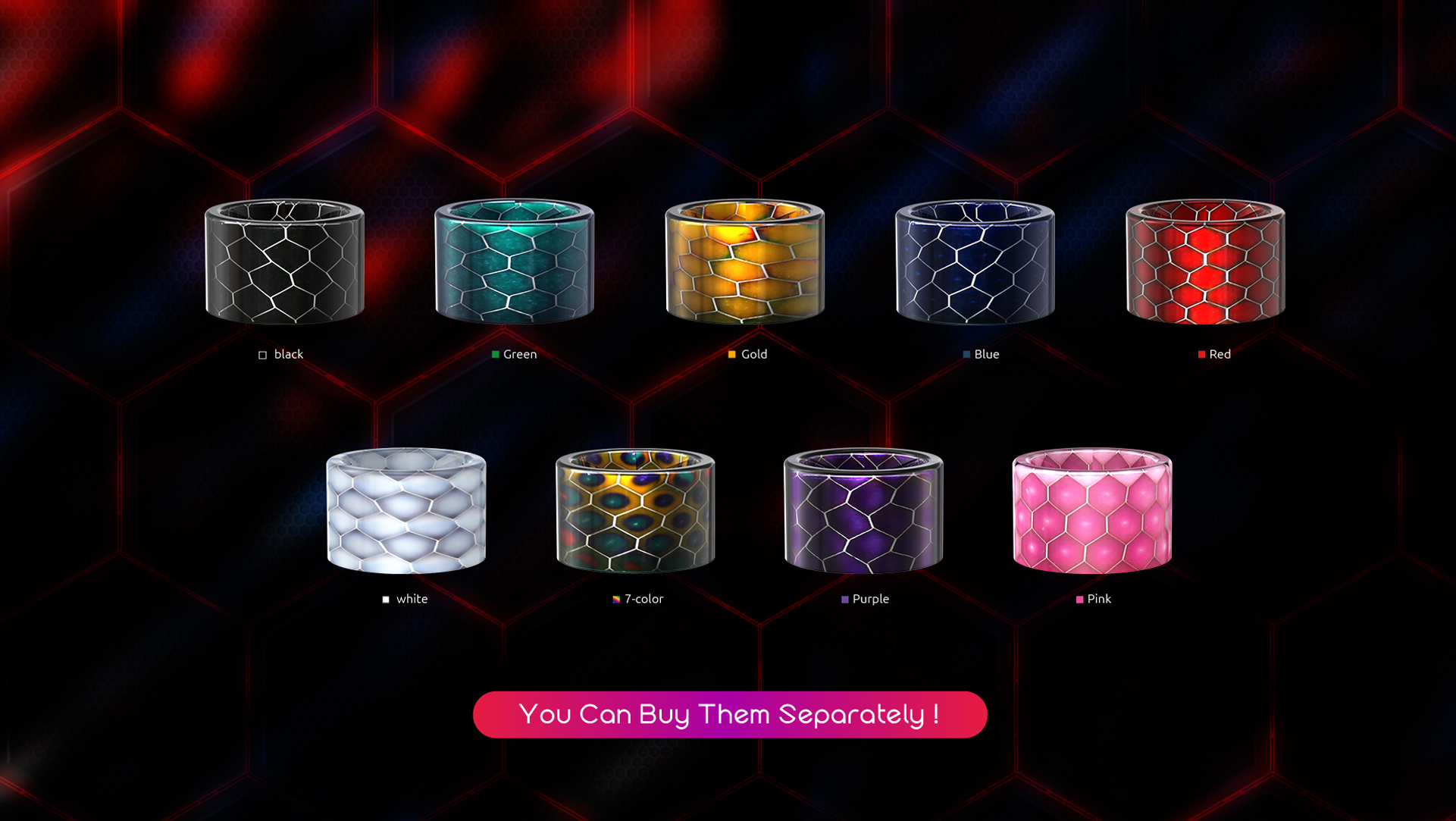 TOP REFILL SYSTEM
Top rotary refill makes filling an easy thing. Leak proof slot can significantly solve leaking problem.